2023 March Madness Daily Pickem Pool
2023 NCAA Tournament Daily Pickem Pools


It's tourney time again! We offer daily pickem-style pools for the March tournament.
Pools are Free

Optional Upgrades Available

Learn More
Create your March pickem pool

We host 2 different formats of tournament basketball pickem pools, WITH and WITHOUT Play-in games. Each pool with 4 different scoring methods.

Choose the games you want for your basketball pool:

Feature highlights:

Commissioners can customize picks deadlines

Commissioners can edit anyone's picks at any time

Players can view everyone's picks (after picks deadline)

Players can add additional sets of picks
top
We host the best pick em pools on the net. This means that all you have to is make your picks every week and we do all of the difficult calculations.
You and your friends make your picks every week and then at the end of every week, we calculate how everyone did and you see who wins and by how much.
This pool has only March Madness games. If an March Madness team is playing, we'll have it in our line up.
top
The object of the game is to get the most points each week and for the entire season.
top
Check out our
screenshot demo..
Sign up for the best March Madness College basketball pool on the internet (only 3 questions)

Create an March Madness College basketball daily pick em pool (screen shot..)and Invite Your Friends (screen shot..)

Each day they make their picks online (screen shot..)

After each day's March Madness games, We Calculate each user's score to determine the winner / placings for your pool
top
Scoring methods have not yet been configured for this pool.
Tie Breaker
:
Tie Breaker: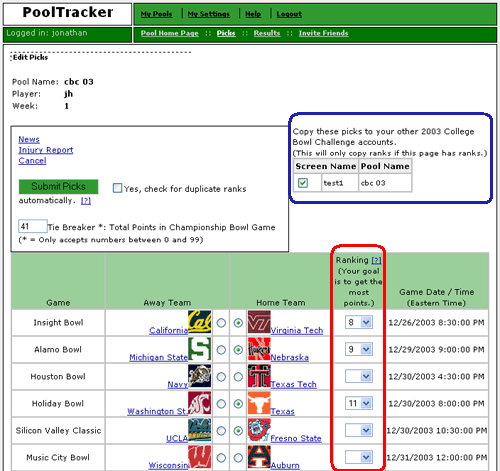 top
The starts Thursday, March 16, 2023
top
You choose how many weeks to compare, for the season standings.
Many different scoring methods.
Opt-out Weekly Reminder Emails
top
Pool pricing is based on the number of players in your pool. The prices stated are good for the entire pool duration. ie. What ever the terms of the pool are: the entire NFL regular season or the entire NCAA March Madness tournament, etc.
For corporate sponsorships or pricing for larger pools than shown,
please contact us
.
Pricing
for
| Title | Price for first X players | Price per player after the first X | Description |
| --- | --- | --- | --- |
| Pricing is not in the system, yet | | | |
I created pooltracker.com in 1998, because I love sports and competition. I was the guy in school who ran pools for all my friends. I knew I could run pools online and get more of my friends to join in, so, I taught myself web programming and I was on my way. I've been running pooltracker ever since. In that time, I found that I love getting people together who share the passion for sports and competition like I do.
I started charging money for people to use the site a few years ago and much to my amazement, the site has grown every year since. Now, it's more than just a hobby, it's a business and it takes up quite a bit of my time. I enjoy every minute of it and wouldn't trade it for the world.
I think you'll enjoy this site so much, that I make this promise:
I pledge to make things right, one way or another.. so, you and your friends can enjoy using pooltracker.com.

Jonathan Harris
Founder and President
Pooltracker.com

Game
Away Team
Home Team
Game Date / Time
(Eastern Time)
All games have started.
SN: asxljw